Movies about Dogs: Watch with Children
23 сент. 2021
Do you like movies? We will not ask if you like dogs, this goes without question. Therefore, let's simply ask: do you like movies about dogs? We suggest remembering (or maybe not remembering, but discovering) several movies that your children will undoubtedly enjoy watching. Because they knew how to make excellent children's movies in the Soviet Union.
So,
"Goaway and Twobriefcases", Mosfilm, 1974

Twobriefcases is a first-grader Alyosha Seroglazov, who received such a strange nickname for his small stature: the boy was "tall" as exactly two school bags. Well, who is Goaway? Of course, this a dog, or rather a puppy. And how else can you call a thoroughbred yard terrier who barks incessantly, spoils things and drives crazy everyone around, from neighbors to Alyosha's mother? The main character and his girlfriend Snezhana picked up Goaway on the street. Despite all the difficulties of the dog's character, the boy loved his pet very much and dreamed of settling him in the house forever. But for this purpose, Alyosha had not only to raise the puppy, but also save him from evil people who wanted to take the dog "to the institute for experiments". The movie is considered a comedy, but in fact it is an incredibly touching story of kindness, dedication and true friendship. The movie is based on the story by Yuz Aleshkovsky "Goaway, Twobriefcases and a Whole Week".
"Where are you, Bagheera?" Odessa Film Studio, 1974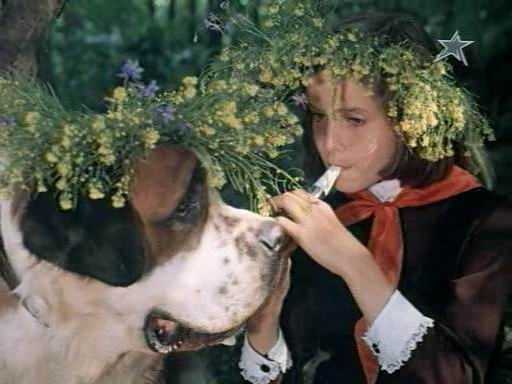 "Be aware of the dog!" Such a sign should, of course, hang on the fence of the house, which was walked by every day by Tanya the girl and her friends. There was no sign, but there was an angry dog – a huge St. Bernard. Bagheera, that was the name of the dog, was very conscientious about her duties as a yard guard and therefore barked very loudly. The children, of course, were very afraid of this angry barking. Tanya alone was not afraid! Every day she came to visit Bagheera and brought a treat, until the girl and the dog became friends. But, as they say, not a single good deed goes unpunished: Tanya and Bagheera got apart... However, we can do without spoilers: just watch this good movie.
"Without Family" Lenfilm, 1984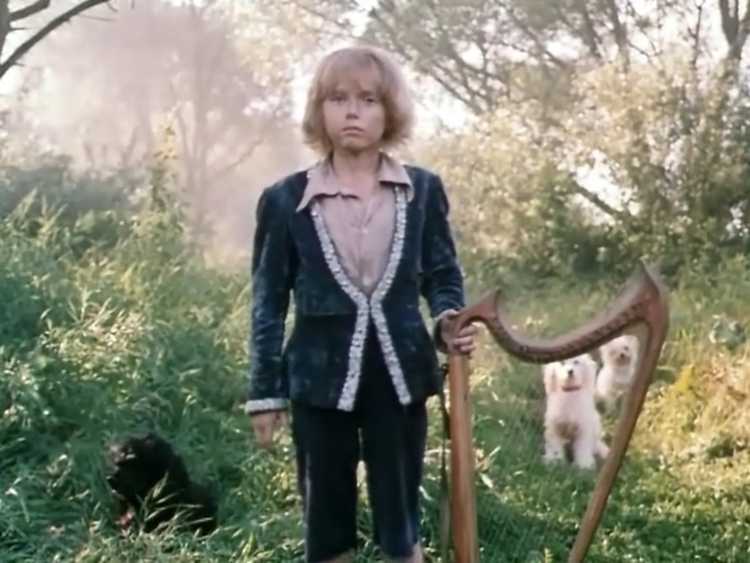 Two whole series of real adventures and real friendship in a film adaptation of the novel by Hector Malo about the adventures of Remy the boy. He has no family, but he has friends - a little musician Mattia and a white poodle Kapi. And also Vitalis, a wandering musician and trainer, under whose leadership the four-legged "artist" Kapi performs. Vitalis will teach Remi not only to read and understand music, but also to love animals... Those who have already watched this movie are sure: "Without Family" is a movie for kind people.
"Give a Paw, Friend!" Film studio named after Gorky, 1967

Everyone knows that a dog is a friend of man. But the little girl Tanya is so sure of this that her dog is called Friend. The dog helps Tanya in everything: carries bags, rescues when the girl is drowning, finds when she is lost, and even brings up a truculent cat. Once the dog even helps to detain a thief! And when Tanya falls ill, her faithful Friend does not leave her little owner... This is one of the most famous Soviet children's films; it was shot according to a script of the outstanding writer Yuri German.
"Puppy from the Constellation of Hunting Dogs" Ladya Creative Union, Film Studio named after Gorky, 1991

A star disappeared in the constellation of Hunting Dogs (such a constellation really exists, did you know?), and at that moment a puppy named Puppy appeared on Earth. He is kind and just, faithful in friendship. And Puppy also knows how to speak and becomes a real star gift for Ryzhik Soldatov, whose life he once simply turned upside down. Filmed a little later than the ones we described above, this film will return you to the atmosphere of the early 1990s, which many of us still remember. It was not at all easy time, but any time can become happy if you have a faithful and infinitely loyal Puppy next to you...